Yesterday just before going to sleep, I finished off all of my level 85 character's collection of
Tiny Shale Spider
companion pet. The rare spawn
Jadefang
is on a long timer (about 8 hours), and the only way to get to the niche he resides in is via a quest
Underground Economy
in which you can get the bomb that can place you there. Now, hunter also want this green Shale Spider to fill the niche of the party that does not have paladin or druid. And it looks good. In all, I killed
Jadefang
7 times for the
Tiny Shale Spider
and tame it once for my hunter. The very first time I encounter him is with my hunter
Kycilia
while trying to find and tame it:
Kycilia with Jadefang as combat pet
At that time, I haven't had the foresight to get all of my level 85 characters to get the quest (the quest isn't available daily, just some of the days), so the very next time I encounter it, only Kycilia has the bomb. So I made the best use of the situation and got Kycilia her rare companion pet:
Jadefang with Tiny Shale Spider
After the next time in which the quest became available, I got all but my death knight the quest with bomb and prepare to get everyone her companion pet. Paladin Dianora is the first one up:
Dianora with Tiny Shale Spider
Mage Nodame is next:
Nodame with Tiny Shale Spider
Warlock Kasukabe got it back in May 1 2011:
Kasukabe with Tiny Shale Spider
Shadow Priest Fidie also got it later that day:
Fidie with Tiny Shale Spider
When I realized that my Death Knight Ogiue didn't have the quest, I waited until it's available, and she's the next one to get the pet:
Ogiue with Tiny Shale Spider
Finally yesterday before going to sleep, my boomkin druid Lonchaneyjr got hers: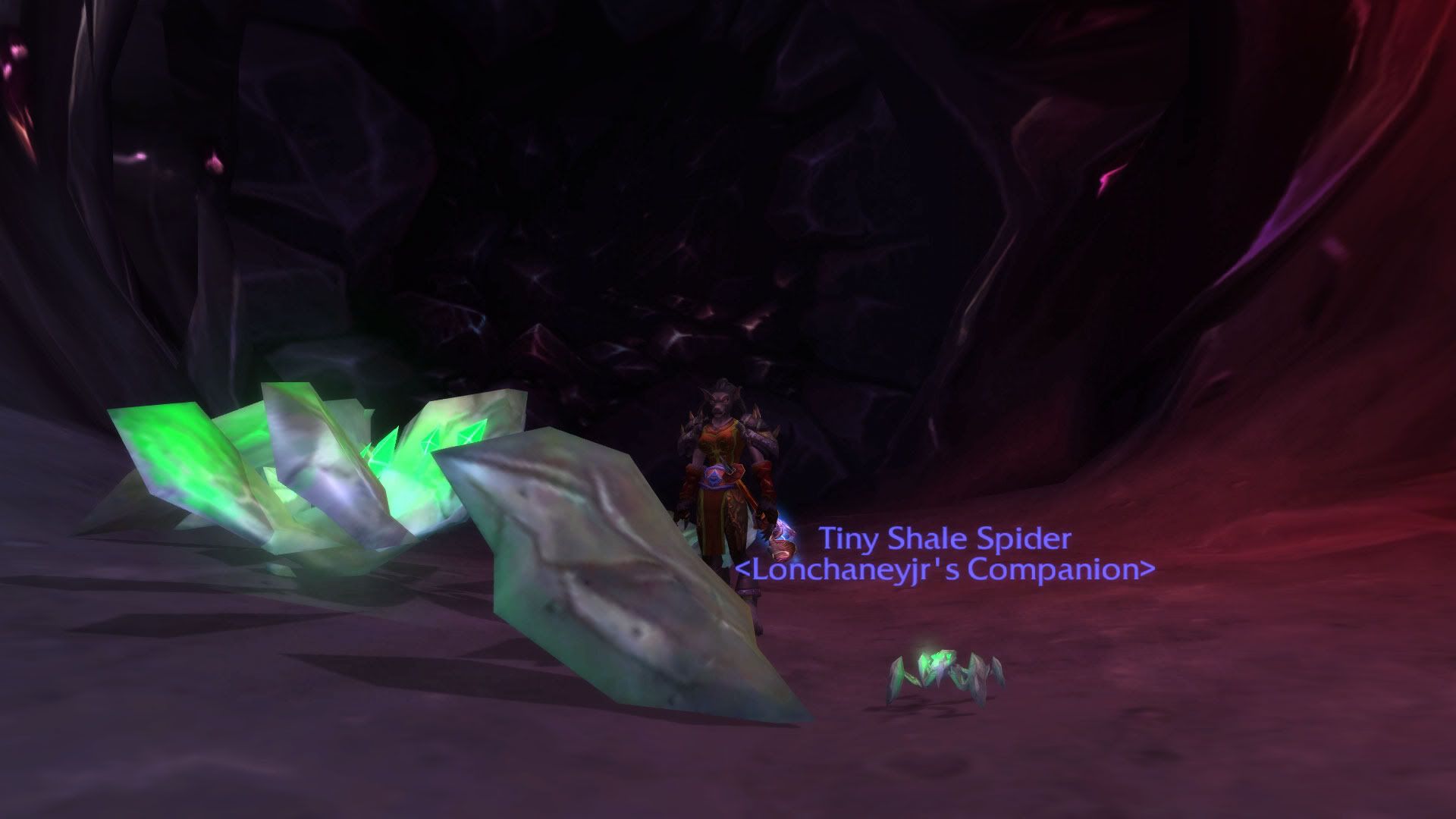 Lonchaneyjr with Tiny Shale Spider
In all, it's an round of interesting game of stalking and waiting. Now that's over, I can stop parking my hunter there, and she can participate in more useful activities.
Just did a modification of this post. This is actually the 9th after the surgery, rather than yesterday.
115/73/77 205lb 92 mg/DL
Month 09 4.6lb